What is Bairbie.me: Everything You Need To Know
The recent release of Greta Gerwig's highly-anticipated Barbie movie, starring Margot Robbie has propelled Barbie into the global spotlight once again. From TikTok to Instagram, new Barbie related trends are popping on fans feeds everywhere, from people using clothes inspired by the movie or by the aesthetic called barbiecore to app filters that put the barbie poster as background to your own photo, taking you to barbieland.
Amidst the current craze, one of the most popular apps right now is Bairbie.me. In this comprehensive article, we will delve deep into this AI tool, addressing all your questions. We'll explore the legitimacy of the app and its safety for using your photos. Furthermore, we'll take a close look at its features, capabilities, and how it can help you achieve enchanting results while embracing the Barbie trend.
What is Bairbie Me?
Bairbie.me is an AI-powered tool designed for transforming personal photos, typically selfies, into a Barbie doll. This web-based platform enables users to apply various AI techiniques to their pictures, creating a Barbie-like appearance with features such as makeup, hairstyle, locations and clothes. Providing a creative way to embrace the Barbie trend by knowing how you would look like as a barbie doll.
Barbie.me offers easy-to-use features for transforming photos. Let's explore these features before delving into how Barbie.me works.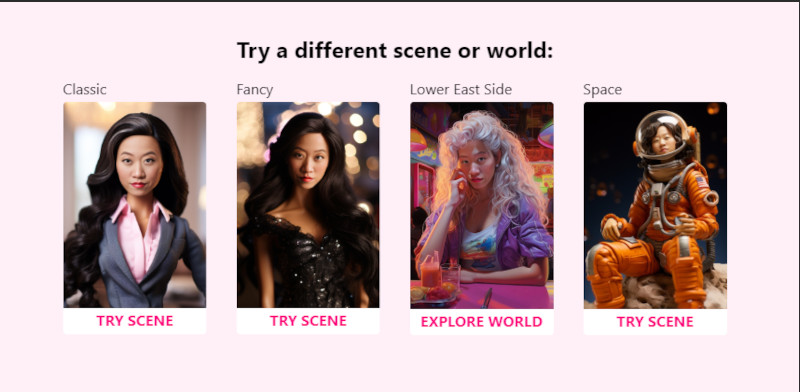 Bairbie.me Features
Customizations
Bairbie.me offers some customization options, allowing you to choose the perfect combination of hair color, skin tone, Babie Doll transformation. This feature ensures that your transformed photo accurately represents your desired look and style.
Babie or Ken: You have the option to select whether you'd like to be represented as a Barbie or Ken in your image generation. This allows for even more personalization and creativity in your Babie Doll creation.

Hair Color: Select from a spectrum of hair colors, from classic brunettes and blondes to red heads and black hair, letting you experiment and find the hair color that suits your vision.

Skin Color: Tailor your Babie Doll's skin tone to match your preference, whether it's a natural tan, light, or dark. This level of customization is only available for some scenes, like the classic for example.

Race (optional): For this item you can choose among white, black, asian and hispanic to create the Doll that most resonates with your identity.
Choosing Different Scenes and Worlds
Bairbie.me allows you to select from a variety of scenes and worlds. This feature adds depth and creativity to your transformations.
Scenes: Choose from a diverse range of scenes that perfectly match your Babie Doll's style and personality. The app offers some options, whether you prefer to be depicted at the beach, in a fancy setting, or even in unconventional places like outer space. The scenes come with their outfits and variations of that scene as backgrounds.

Worlds: Bairbie.me lets you choose the world you want to be transported to while keeping the barbie aesthetic. In the landing page you can already see that one of the world options is the lower east side, famous neighborhood in New York.
Email Result Delievery
To ensure that you have easy access to your Babie Doll creations for further use and sharing, Bairbie.me offers convenient email result delivery.
Email Result Delivery: After finalizing your Babie Doll transformation, the result will be promptly delivered to your email address. This feature allows you to easily save and organize your creations or share them with friends and family.
How to Use Bairbie.me
In this comprehensive guide, we'll walk you through each step of the process to ensure you have a seamless experience.
Upload your Photo
The first step to transforming your photos with Bairbie.me is uploading them. Here's how you can do it:
Visit the Bairbie.me website.
Look for the "Upload a photo" button.
Select the photo you most wish to be transformed to a doll from your computer or device, you can only select one photo in this input.
The app recommends you to upload high-resolution solo photos of you looking at the camera while avoiding using glasses or any other eyewear that could interfere with the AI training.
Choose Your Options
Once your photo is uploaded and processed, you'll need to choose your customization options. These options will allow you to enhance or transform your image according to your preferences. Here's what you can expect:
Barbie or Ken Representation
Hair Color
Skin Color
Race (optional)
You'll be also asked to write your email for the results to be sent to.
Get the Results
When generating your photo, you'll have the opportunity to download it or select 'Regenerate' to explore different options. If you've purchased your headshots, remember to download the image for the non-watermarked version!
While previewing the image generated from your provided photo, here are your choices:
Click the 'Download for Free' button if you're eligible.
Alternatively, you can opt for the 'Share' feature.
If you prefer the non-watermarked version, choose 'Download without Watermark.'
You have a limited number of 'Regenerate' attempts available, providing some flexibility to find your preferred version.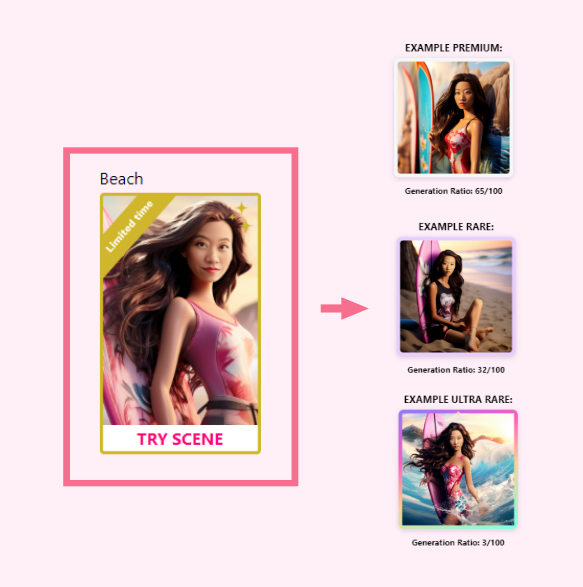 Bairbie.me incorporates a system in which each user's Babie Doll creation can belong to various rarity categories, indicated by a Generation Ratio. Your resulting image may be a common example with a Generation Ratio of 65/100 or an Ultra Rare with a Generation Ratio of 3/100, among other possibilities within this range. Usually the rarer the Generation Ratio, the more incredible the image are. This feature not only adds an element of surprise but also enhances the personalization of the experience.
What are the pros and cons of Bairbie.me?
Pros
Efficiency: Bairbie.me boasts a relatively fast AI training process, delivering results in a matter of minutes. Users receive email notifications when their results are ready, ensuring a convenient experience.
Satisfactory Quality: Users often find the results to be consistent, featuring good texture for hair and skin, reminiscent of a plastic Barbie doll. During our testing trial, we noted that anatomical details were generally accurate.
Trial Option: Bairbie.me offers a free trial, allowing users to assess the quality of their generated images before committing to a purchase. This trial option can be valuable for those looking to explore the platform.
Affordability: The pricing starting at $1.99 makes Bairbie.me accessible to a wide audience. It's an option worth considering for individuals seeking a handful cost-effective photos for their social media.
Cons
Limited Scenes: The tool may lack variety in scenes or backgrounds for image generation. While the platform may excel at producing consistent and detailed images, the available scenes or settings may not cater to a wide range of aesthetic needs. Users seeking diverse scenes, environments, or themes may find the platform's scene options restrictive.
Volume Pricing: While the initial pricing is affordable for individual users, those with larger image generation needs may face higher costs. The platform's pricing structure for bulk orders or extensive usage could become less competitive compared to other options.
Limited User Experience: A website with few pages and options may provide a less engaging and immersive user experience. Users might feel that the platform lacks depth and may not spend as much time exploring its capabilities.
Is Bairbie.me Safe?
Now that we've explored the pros and cons of Bairbie.me, you might be curious about your privacy and safety while using this AI tool. So, let's delve into the terms and conditions to explore the safety aspects of Bairbie.me.
Age Requirements and Content Guidelines
The first aspect to consider is Bairbie's age requirement. Users are required to confirm that they are at least 16 years old and meet the minimum age of digital consent in their country. If underage, a parent or guardian must agree to the terms on their behalf. This demonstrates Bairbie's commitment to ensuring that its services are used responsibly by individuals of an appropriate age.
Bairbie.me also outlines specific content guidelines, prohibiting the generation of NSFW, lewd, hateful, or violent imagery, along with copyrighted or trademarked material in prompts and uploads. These guidelines emphasize a commitment to maintaining a respectful and safe environment within the platform.
User-Generated Content and Responsibility
Bairbie.me makes it clear that users retain ownership of their generated content. They are not claiming ownership rights to the content produced by users. However, this does not absolve users of responsibility. Users are solely responsible for their content, ensuring it does not infringe upon the rights of others and that they have the necessary rights and authorizations.
Limitation of Liability
Bairbie's terms include a comprehensive "Limitation of Liability" section, which is common in many online services. It states that Bairbie.me and its affiliates shall not be held liable for various types of damages, including indirect, incidental, special, consequential, or punitive damages, resulting from the use of the service. While this might seem daunting, it's a standard practice to set boundaries on liability.
Modification of Terms and Choice of Law
Bairbie reserves the right to modify its terms at any time and change, suspend, or discontinue its services with notice to users. Users are encouraged to review the terms periodically to stay informed about any changes. Additionally, the choice of law clause states that disputes will be governed by the laws of Israel, regardless of a user's domicile or location.
In conclusion, whether Bairbie.me is safe or not depends on how responsibly users engage with the platform. Bairbie takes measures to ensure that its services are used in compliance with applicable laws and guidelines. Users are encouraged to familiarize themselves with the terms and conditions and use the platform responsibly, respecting both the guidelines and the rights of others. As with any online service, being aware of the rules and using good judgment is key to a safe and positive experience on Bairbie.me.
Free Trial and Pricing Options
Barbie.me offers you the opportunity to dive in with a free trial to experience its magic. During the trial, the image will include a watermark, which is perfect for testing to see if you like the results. You'll have 4 or 5 additional chances to regenerate a new result to determine which one you prefer. Once you've chosen the one you want, you can remove the watermark by making a one-time payment of $1.99. Alternatively, you can choose to download it with the watermark if that is not an issue for you. Regardless of whether you opt for the free or paid plan, they all offer the same options and features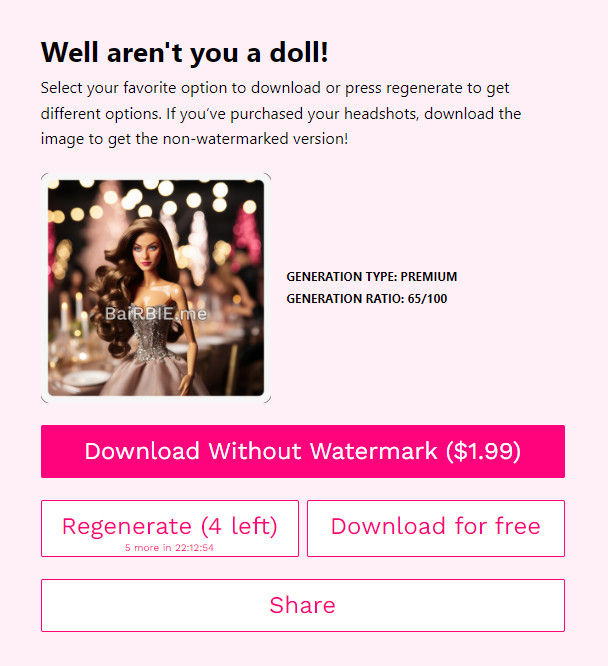 Final Thoughts
As we've explored, Barbie.me offers a unique experience, allowing users to effortlessly transform their photos into Barbie-like dolls. Unlike similar photo transformation tools, such as Barbieselfie.ai, which utilize the same photo you've provided, Barbie.me employs its technology to completely change you into your plastic counterpart in Barbie Land.
If you're looking to add a touch of Barbie magic to your photos, you'll be thrilled to discover that GetBetterPics now offers Barbie headshots. With this innovative service, you can embrace the Barbie trend using realistic photos, eliminating the need to worry about poses or outfits. We digitally recreate a stunning photo of you effortlessly, ensuring you can look fantastic without the hassle of traditional photoshoots or photoshop skills.
As technology advances, we can anticipate Barbie.me evolving to offer more features and options. In the meantime, take some time to explore Barbie.me and other Barbie filters and tools to discover what best suits your style.
About GetBetterPics
GetBetterPics is a leading provider of AI-generated photography, utilizing cutting-edge technology to produce stunning digital images. Our advanced AI algorithms enable us to create lifelike photos with exceptional quality and realism 💫✨. As pioneers in the field of AI-generated headshots, we aim to revolutionize the way portraits are created and offer a new avenue for creative expression and brand building. GetBetterPics strives to push the boundaries of what is possible in the world of digital photography.